A QUICK UPDATE: After many requests, I have enrolled my books in the Amazon Kindle Unlimited program. If you are a Kindle Unlimited reader you can download all of my books for free. Here's a link to all my books.
_____________________________
The four-book series depicts the struggles of diverse groups surviving in California to Texas…Arizona to Oklahoma, where danger comes from unexpected and often shocking directions. If you loved Stephen King's The Stand and Cormac McCarthy's The Road, you will love Nicki Huntsman Smith's Troop of Shadows Chronicles.

The people the pandemic left behind are…different. Special. Survivors in a world of lawlessness and brutality. Once a chubby nerd content with getting by, Dani has morphed into a badass force-of-nature. She saw the writing on the wall and prepared for the end of the world. And afterward too.
Isaiah believes the pandemic left civilization decimated and ripe for subjugation. Promise him loyalty and you live. Refuse and die.
Lucky to have survived one encounter with Isaiah, Dani and her friend Sam flee their Texas neighborhood. Life on the road will be dangerous, but for these two survivors it's worth the risk.
Buy today and witness the journey.
Book One in the Troop of Shadows Chronicles – Available on Amazon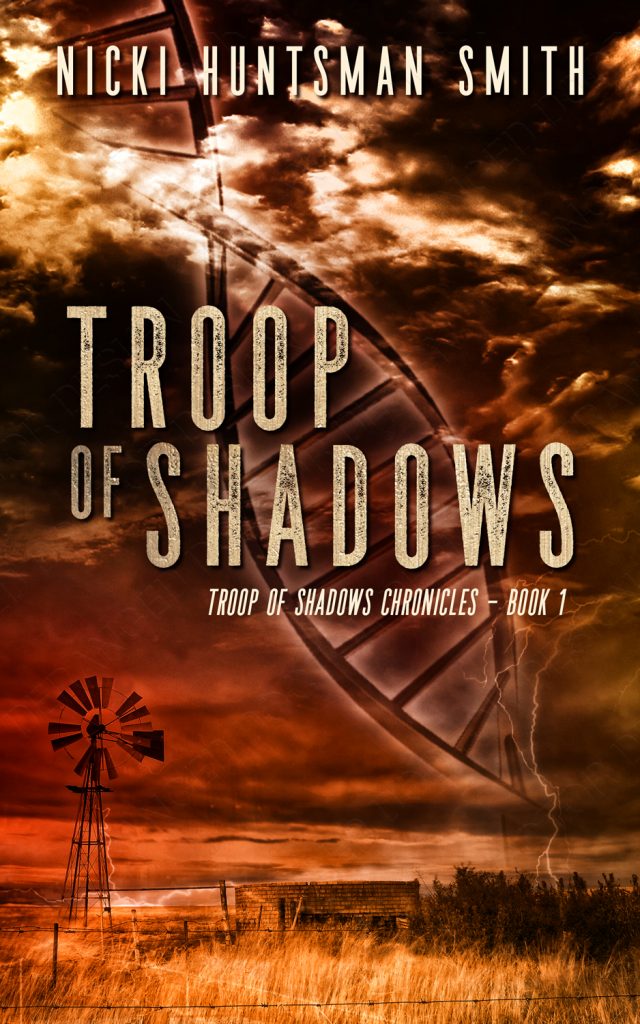 Beauty and Dread – Book 2 in the Troop of Shadows Chronicles
Picking up immediately where the first book in the series ended, Beauty and Dread continues the saga of a small group of extraordinary people.
Their unique genetic code allowed them to survive a devastating global pandemic. Now they must continue to fight for their lives, their humanity, and their town's enviable progress toward rebooting civilization.
The tiny population of Liberty, Kansas, has weathered disease, starvation, marauders from without, and dissension from within. Still, it is a shining star of hope in an otherwise bleak and desolate land.
But a madman approaches with an army at his heels, spurred by blood-lust and fantasies of revenge.
Will he prevail, usurping the town and murdering its citizens? Or will this eclectic group of geniuses and misfits fight back?
Intricately plotted, superbly paced, and brought to life by fully-developed protagonists, quirky supporting characters, and charming villains, the Troop of Shadows Chronicles is a tour de force. It is the unfolding story of the greatest threat humankind has ever faced and is populated with some of the most entertaining people you'll ever meet.
Beauty and Dread, Book Two in the Troop of Shadows Chronicles – Available on Amazon
Moving with the Sun – Book 3 in the Troop of Shadows Chronicles
You're one of the lucky ones – you lived through the global pandemic that eradicated seven billion people. You survived civilization's collapse and the unspeakable atrocities committed by desperate people.
Now it's two years later…and you're still alive.
So are two intriguing groups of survivors living in close proximity on the Florida coast. The first, a harmonious community of highly intelligent people who reside on a former island paradise; they are determined to create a sustainable quality of life. The other, camping in a Costco warehouse on the nearby mainland, a ruthless tribe of organized raiders who will stop at nothing to provide for their own.
Not only must they endure hardships and hunger in their ravaged world, fate seems hell-bent to crush them all as a monster hurricane seethes in the Atlantic.
Moving with the Sun, Book 3 in the Troop of Shadows Chronicles – Available on Amazon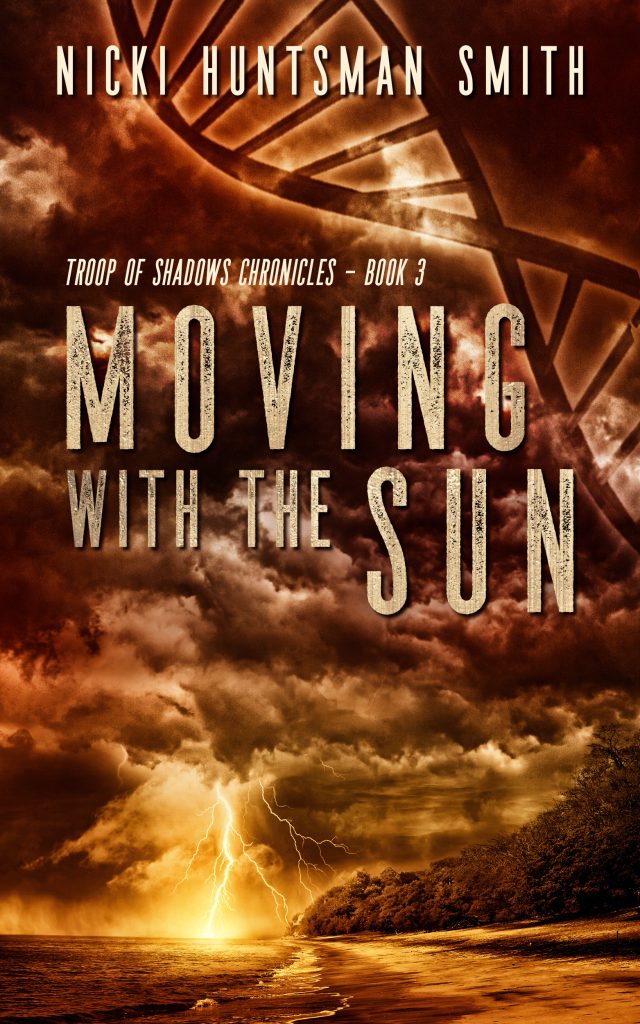 What Befalls the Children – Book 4 in the Troop of Chronicles Series
What has Fergus gotten himself into this time?
The residents of Whitaker Holler, nestled in the Tennessee Smoky Mountains, possess the gene (engineered millennia ago) that saved them from perishing during a catastrophic global pandemic three years earlier. They're lucky. They knew all about rustic living before the apocalypse.
Led by Serena Jo, a brilliant, determined woman who doesn't hesitate when making impossible, even ruthless decisions about their survival, the Mountain People thrive in this newly primitive world.
Two diverse residents of a secret government warehouse (one of the nation's seven 'Strategic National Stockpiles') camouflaged within a self-storage complex a few miles from Whitaker Holler also survived the pandemic.
Ray, the facility's former brainy but phobia-plagued supervisor must accommodate his captive, a malevolent psychopath bent on murdering every human she encounters. Ray knows keeping the survivors safe from Lizzy, despite the toll she takes on his peace of mind, is the most important and dangerous job left in the world.
What if he fails?
What Befalls the Children, Book 4 in the Troop of Shadows Chronicles – Available on Amazon